In recent years, the Management Office of Libo Zhangjiang scenic spot has implemented the work instruction of Guizhou provincial Party committee and the provincial government that the overall situation should be dominated by high-quality development, established the small seven hole tour guide service center of Libo County Keleda Tourism Co., Ltd., cultivated a high-quality, high-capacity and high-standard tour guide team with the working concept of "tourists first and sincere service", and created a top-notch, domestic first-class and world-famous tourism service image in the province, Promote the county's tourism development with small tour guides. It has successively won the "Guizhou Province Worker pioneer" and "Qiannan Prefecture worker pioneer".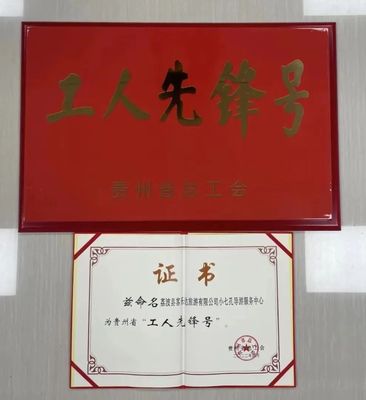 Maintain the foundation, promote improvement, and adhere to improving quality and efficiency. First, set up a guide craftsman room. The small seven hole tour guide craftsman room has five working groups: tour guide word promotion group, VIP project group, "hoe guide" group, new media marketing group and high-quality tourism service development group, which are mainly responsible for scenic spot explanation, government and business reception, tour guide training, high-quality tourism service improvement and other work, laying a solid foundation for building a high-quality brand of "tour guide craftsman"; Second, enhance service skills. Actively participate in various competitions to strengthen business skills and service level. In the first vocational skills competition of Guizhou Province, Qiannan Prefecture won the first place of "cultural tourism creative publicity expert" and the third place of "tour guide service", and two guides won the title of the first "craftsman of Qiannan Tour" in Qiannan Prefecture, and a total of five tour guides won the title of "top ten tour guides" in Qiannan Prefecture for two consecutive years; Organize the internal normalized tour guide competition and skill assessment. Since 2021, the "small seven hole scenic spot tour guide craftsman competition" has been held twice and trained 19 times, encouraging all tour guides to strengthen their skill learning, change their work style, polish the craftsman spirit, build "hard support" with "soft power" and take the service brand to a new height; Third, improve service quality. Five scenic spot codes of conduct have been prepared, including the code of professional conduct for tour guides, the code of conduct for trainers, the code of conduct for window staff, the code of conduct for fleet management, and the code of cleaning service quality in scenic spots, to provide a standard basis for the service standards of various departments in scenic spots. With the joint efforts of all cadres and workers, there has been no effective complaint in the scenic spot since 2021.
Seize opportunities, face difficulties and adhere to service quality. First, broaden the scope of services. Sign mutually beneficial cooperation agreements with 45 travel agencies inside and outside the province to ensure the stability of tourist sources; Cooperate with qianyuntong, cooperate with online platforms such as Ctrip, donkey mother, and flying pig, and launch VIP chartered cars, tour guide services, and high-quality tourist route ticket products. Adhering to the service concept of "tourists first", under the influence of the epidemic situation, the VIP project has made new highs. The second is to optimize the commentary. Three sets of commentaries suitable for different groups of people, professional edition, popular edition and popular science edition, were carefully prepared for the tour guide to explain. Since its establishment in 2019, it has received nearly 100000 tourists, praised the tourists with warm, high-quality and professional services, and achieved "zero complaint" for the tour guide service.
Observe the general trend, set the direction, and adhere to innovation driven. First, innovate business development ideas. The xiaoqikong tour guide service center broke the inherent mode, launched VIP tour guide service projects that meet the needs of different tourists, such as "team package" and "single person free competition", combined with Libo green, red and characteristic scenic spot resources, completed the design of 6 high-quality tourist routes in Libo and the R & D and promotion of 1 new product, so as to promote Libo global tourism into a new stage of development. Second, enter the network media platform. Take wechat official account, Tiktok short video and other new online media as the main carriers, establish a publicity matrix, broadcast live interaction in the scenic spot regularly every day, deepen the tourism image of xiaoqikong as a "wonderful clock in place", create a "online Red" tour guide, and promote online and offline integration and drainage. In January 2022, the "Changyou Libo" Tiktok was created to introduce xiaoqikong's tourism strategy to tourists and friends, and publicize the historical culture and natural scenery of the scenic spot, Lead netizens to "cloud tourism" without leaving home. Attract many netizens' interactive attention. The third is to establish a "hoe guide" team. With the small seven hole tour guide service center as the team, the group collects the people around the scenic spot to form a "hoe tour guide" team, drives the people to generate income and increase efficiency, realizes "the scenic spot leads the village", and promotes poverty alleviation and Rural Revitalization. The "hoe guide" training team has successively carried out 8 sessions of "hoe guide" training, with a total of more than 300 participants. In the peak tourist season of 2021, the xiaoqikong tour guide service center will set up the first batch of 25 "hoe tour guides", whose monthly per capita income will reach 4000 yuan.
In order to optimize the work content of tour guide service and create a more comfortable and safe tour process for tourists, the xiaoqikong tour guide service center has launched the VIP sightseeing bus business in xiaoqikong scenic area. On the basis of playing, it has added high-quality services such as specially assigned personnel to guide the fast track to the Park, shuttle bus, exclusive tour guide to accompany the whole journey, essence route + exclusive scenic spots, exclusive cars, VIP lounges, etc. to make you more comfortable and worry free when you play. Welcome to xiaoqikong scenic area!