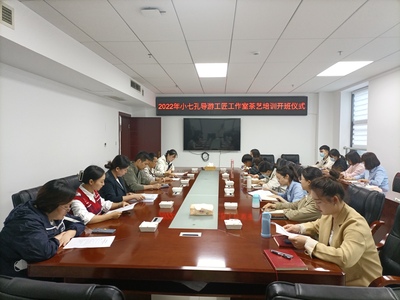 In order to keep up with the high-quality development of tourism in the province, improve the tourism service quality of xiaoqikong scenic spot, and implement the "tourist oriented and sincere service" in each link, the xiaoqikong tour guide craftsman studio conducted a three-day training on tourism service ability (tea art) in xiaoqikong scenic spot from May 24 to 26. A total of 21 staff from the tour guide craftsman room and all departments in the scenic spot started a "Tea Art Tour".
In this training, Ms. yangshenghui, a national intermediate tea evaluator and senior tea artist, was invited as the training teacher to carry out two courses: theoretical knowledge and practical training, covering the history of tea culture, tea making utensils, types of tea products, tea drinking art, tea etiquette and other knowledge. Through the study of tea culture theory and the training of tea art technology, we will integrate the tea art skills with the service concept of the scenic spot, cultivate the art with tea and empower the tea ceremony, and constantly build and strengthen the "ingenuity service" team in the scenic spot.
While carrying out the tea art training course, the small seven hole guide craftsman studio used the "Changyou Libo" Tiktok to broadcast the whole online training course to colleagues who failed to study on site and fans who are interested in tea culture, leading them to learn tea art knowledge together, temper their internal skills, enhance their quality, and improve the comprehensive service quality of the scenic spot.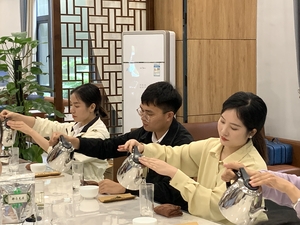 Under the normal situation of the epidemic, the scenic spot has always adhered to the principle of "tourists first", firmly established the development awareness of quality first, paid close attention to the promotion of high-quality service, made use of the gap period, worked hard to improve the service skills of the staff in the scenic spot, and organized the assessment of the students after the training course, so as to achieve self-cultivation, learning to improve ability, learning to apply, learning to practice.